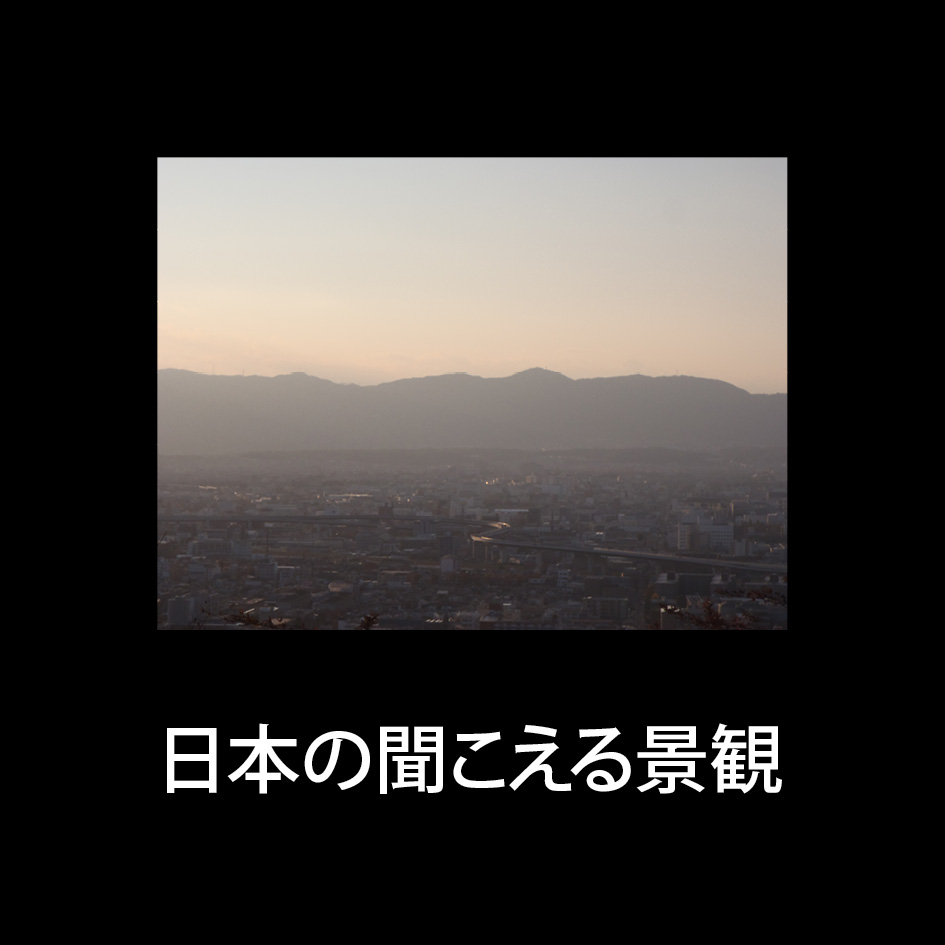 日本の聞こえる景観
Soundscapes, field recordings
Team Solo
Sites Kyōto, Tōkyō, Kōbe, Amanohashidate and lake Biwa
Status Out (self-produced)
Year 2019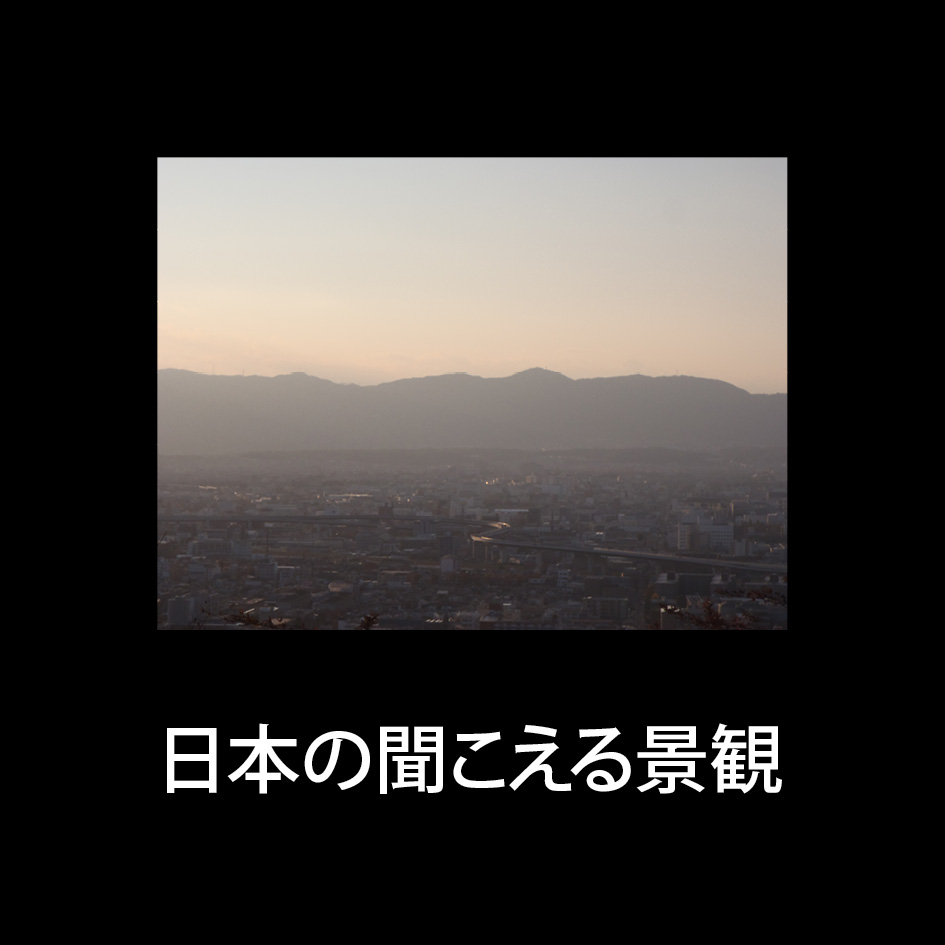 日本の聞こえる景観 | SOUNDSCAPES OF JAPAN

2015年9月24日から | FROM 24 SEPTEMBER 2015
2016年9月24日まで | TO 24 SEPTEMBER 2016

This is a travelogue about one year in Japan.

The first year, I traveled, listened and recorded sounds.
The second year, I forgot about it.
The third year, I tried to remember and re-create the first year by re-composing and mixing those sound materials.

Sounds were recorded between 24 September 2015 and 24 September 2016, mainly in Kyōto, but also in Tōkyō, Kōbe, Amanohashidate and lake Biwa.
One year later, sounds were then re-composed, mixed and edited between 24 September 2017 and 24 December 2019, in Paris.
Recordings are sorted by chronological order.
The titles of the tracks are the names of the places where sounds were taken.
Photographs of the covers were taken more or less near those places.

This work is about our experience of spaces through sounds. Each track is a frame on a wider soundscape, just as a picture would be a frame on a wider landscape. It is of course influenced by Raymond Murray Schafer's book The Tuning of the World (1977). But it is also an intimate work about memory, inspired by Alvin Lucier's composition (Hartford) Memory Space (1970). In the future I may try to compose or improvise my (Kyōto) Memory Space.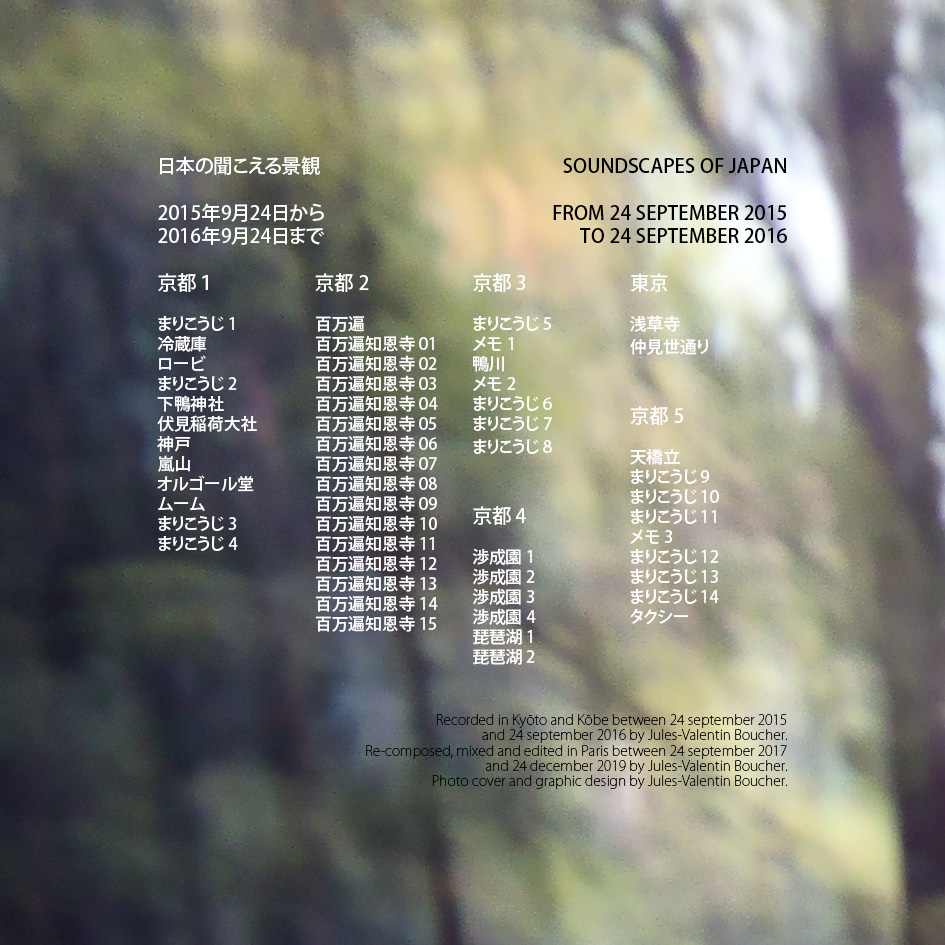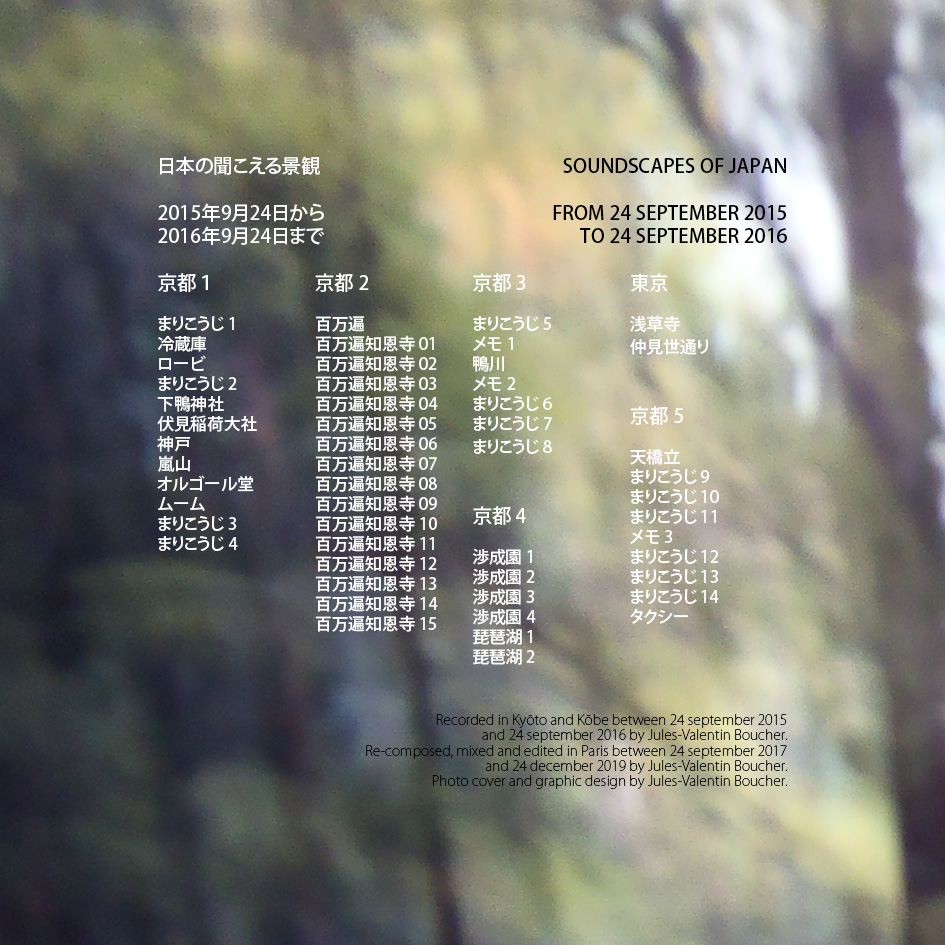 Special thanks to Gilles Tordjman for offering me a recorder few years ago, and to Manuel Devier for his help and advices on mixing.
I also want to thank Nadine Schütz, Christophe Girot, Ludwig Berger and Matthias Vollmer (all from ETH Zurich) for organising the soundscape workshop at Shōsei garden (渉成園, tracks 1 to 4 on 京都 4).
Last but not least, I am full of gratitude towards the schools that gave me the opportunity to do this one-year exchange program : the ÉNSAV (École Nationale Supérieure d'Architecture de Versailles) and the KIT (Kyōto Institute of Technology).